Climate and Watersheds Field PD
6/1/2023
6/19/2023 - 6/22/2023
June 1 7:30 PM CT, June 19 4:00PM CT - June 22 10:00AM
Professional Development
Adult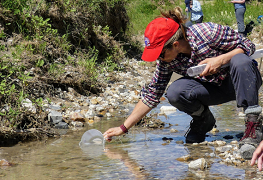 Info at a Glance
Date/Times: June 1 Zoom, June 19-22 Field
Location: Badlands National Park
Grade Levels: K-12
Credits: 2
Fee:
- $50 South Dakota Educators
- $75 Out of State Educators
- Free - Teachers with a contract with Pierre School District
Stipend provided upon completion of assignment
Description
Join us for this immersive PD doing field studies in Badlands National Park. During our time in the field, we will contribute to on-going citizen science projects including water quality monitoring, connect to researchers and scientists, explore the Park's magnificent geology and fossils with Park staff and delve into Indigenous ways of knowing through literature and a visit with an elder.
Our special topic this year is Climate Change so we will specifically focus on field studies you can use with students to explore the topic. We will also learn how the Badlands is the site of the Eocene Thermal Maximum and how the Badlands changed during this warm period of Earth's history.
We will camp in Sage Creek Campground where the buffalo literally roam. The campground is primitive which means no running water or electricity but we provide all meals prepared by an experienced backcountry cook and will have plenty of water. You will need your own camping gear though we do have a limited number of tents and sleeping bags for rent.
This is a hybrid course with one pre-field work session via Zoom for orientation. Two credits will be offered. A stipend will be available upon completion of final reflection.
Made possible by funding from the SD Department of Agriculture and Natural Resources 319 Information and Education Project with support from the South Dakota Space Grant Consortium.
return to South Dakota Discovery Center